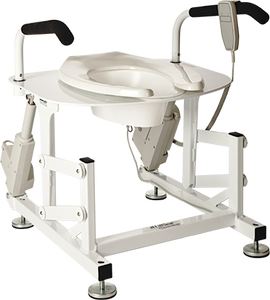 Independence IV Toilet Lift
Regular price $1,849.00 $1,699.00 Sale
We recommend the Independence IV Lift for individuals up to 400 lbs.

LiftSeat provides a safe, easy-to-use toilet transfer solution that will restore your independence and dignity while toileting bathroom or bedside.
Our award-winning, patented design is made in the U.S.A. and can be plugged into a GFI outlet or use optional battery power. With 11 inches of lift and adjustable leveling feet,  our lifts  can accommodate individuals of any height.

We also offer two lifting motion paths, one arcing and straight vertical, depending on your needs.

Installation is simple - The LiftSeat is very easy to install, simply remove your existing toilet seat from your toilet, place the LiftSeat over the toilet, adjust the leveling feet, and plug in the power cord.
LiftSeat is highly customizable and versatile, offering a wide range of accessories to fit your needs and home environment.