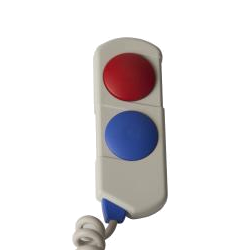 Big Button Hand Pendant
Regular price $135.00 Sale
Big Button Hand Pendant - for individuals with limited finger dexterity or are visually impaired.
For the majority of our customers, the standard hand pendant works well but in some certain instances a Big Button hand pendant is needed to control the LiftSeat from seated to standing.  
The Big Button hand pendant can be used on all LiftSeat models we offer -  Independence I, II, and IV models.
It is plug and play so if you decide to purchase a LiftSeat and at some point down the road you feel like you would benefit from the bigger button hand pendant, you can.
Each button is 1.5 inches in diameter and the pendant comes with a hook for attaching it to the handle bar.