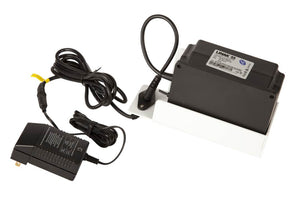 LiftSeat Battery Kit - 2 Batteries
Regular price $330.00 Sale
LiftSeat Battery kit with spare battery includes 2 batteries, wall charger, and wall mounting bracket to use your LiftSeat via battery power all the time.
We recommend the battery kit if your bathroom does not have a conveniently located GFCI outlet to plug your LiftSeat unit into or if your toilet is located in a separate water closet with no outlet.
With 2 batteries, you can have one battery powering the unit while the other is being charged continuously on the wall charger.
We recommend swapping the batteries 2 times a week to maintain proper battery life.
A fully charged battery is rated for 50 up/down cycles of the LiftSeat. So even in a power outage, your LiftSeat should perform without any issues.